écouter The Switch et d'autres artistes proches sur Spotify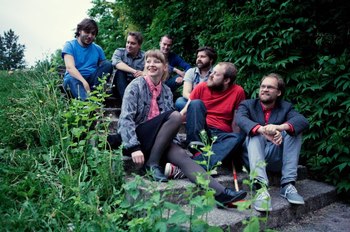 Fondé en 2010, le groupe The Switch est originaire d'Oslo. Leur intention est bel et bien de faire de la musique pop. Les six membres, issues d'autres formations (Norma Sass, Virus, Dr.Kay and His Interstellar Tone Scientists) misent sur les harmonies vocales, les solos de guitare. Leur envie de partager, de s'amuser est évidente, et se reflète dans leurs textes. Leur premier EP est sorti sur le label Oslo Grammofon. On y retrouve "Where It Is" et "Finally Overrated". Leur premier album, intitulé "Big If", sortira à l'automne prochain.  
http://www.facebook.com/theswitchoslo
tags : oslo pop rock
Acheter sur Amazon
dernières actualités sur The Switch
The Switch vous fait battre la mesure (29/06/2013) Le grouve norvégien, The Switch, vient de dévoiler un tout nouveau titre : "Clap on Two and Four". Ecrit un été,  le morceau a été re-enregistré pour l'occasion. Une version plus longue, gorgée de ...
Si vous aimez The Switch alors vous aimerez peut-être The National Bank ou Prudence
Commentaires