Waiting for The Clientele first album, to be released on Acuarela by next autumn, and after seeing them live in February in London, it was a good idea to ask Alasdair, their singer, about his band, his influences and feelings.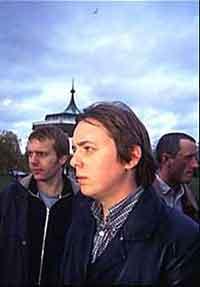 How was born the Clientele ? is there a particular vent, or record, that triggered your desire to play in a band ?
I saw James had written "Felt" on his pencil case in a history lesson at school. We formed a band because we were very young and very excited about what Felt and Galaxie 500 were doing with music at the time.

Your first records were very very difficult to find in France whereas the few media which reviewed them were enthusiastic... didn't you find it frustrating ?
Yes, it was frustrating, but good reviews mean people hunt for the records, and people hunting for the records means eventually the shops will wake up and stock more of them.

Since your first released song on a Fierce Panda Records' compilation in 1997 ('We could walk together', which is also on Suburban Light), how your music has evolved ? ?
Our idea is to carry on making recordings that are as warm as Suburban Light, but a bit more uneasy, with more complexity and sophistication. More instruments, the same minimalism, the same attempt to create a sort of feverish sound. I've been listening more and more to Sam Prekop's guitar playing and Jim O'Rourke's way with arrangements, also the beautiful interplay between Tom Verlaine's guitar and lyrics is a big influence. So we're moving away from the sixties pop influence and we're trying to create something more unique sounding, maybe more jazz based. Bands like Tahiti 80 or Beachwood Sparks can copy the 60s thing far better than us, it's not something that I was ever that interested in as an end in itself.

You're British but your music somewhat evokes American bands (the Byrds, Love or Galaxie 500) to lots of reviewers... can you explain that ?
We always get compared to the classic LA bands of the 60s, I think because they were interested in Pop rather than Rock, but their pop had a dark edge around it, which is exactly what we're trying to do... Growing up in the suburbs, you are very aware of always being on the peripheries of life, it's a very haunting feeling, the aspirations you are fed through the media don't fit your reality. I feel that hauntedness in a lot of American music, America's such a big, empty place. Arthur Lee or Galaxie 500 capture that haunting feeling for me, to give only two examples, and in our own humble way, we're trying hard to capture it too. When we toured there, I loved travelling through America, for a European it's so alien, but so familiar at the same time, you feel like an awkward professor from a Nabokov story.

You released a single on Elefant and are about to release one on Acuarela, another Spanish label.
Besides, you're about to play with Migala in Spain. What interest you specifically in the Spanish indie pop scene ?
I don't really know anything about the Spanish Indie pop scene. I think Migala are a great band, of international status, up there with Broadcast, Tortoise etc.. Le Mans were pretty good too.

It seems that time or weather are recurrent themes in your songs (as for 'rain', 'monday's rain', 'saturday'...). What's your problem with those two topics ?
They're cinematic themes, images. Our music is totally image based. Music and Art is a way out of words and meanings to me. It's a freedom from those things, which is why it's so beautiful. I guess we have an obsession with time passing, as if we've exhausted our emotions, there's only time and weather left.

Where does your inspiration come from when you write lyrics ?
A lot of sources, everything from Hammer Horror films, Surrealist Novels, Symbolist Poetry, Art.