MAISON NEUVE, PAINS OF BEING PURE AT HEART - Paris, Le Batofar, 26/05/2009
Ça arrive, de se faire voler la vedette. Il faut dire que les jeunots new-yorkais de Pains of Being Pure at Heart étaient attendus pour leur première date française, après un album gentiment hype, et que la barre était du coup placée peut-être un peu haute. Le Batofar affichait complet pour cette soirée s'inscrivant dans le cadre des "Route du Rock sessions", incursions parisiennes du festival breton.
Alors que DJ Éthel enchaînait les classiques indie du siècle dernier (Swell, James, Violent Femmes...), Maison Neuve sort le bout du nez hors de la minuscule loge. Le groupe parisien a été appelé en renfort pour pallier la défection de Blank Dogs. Très bon coaching, comme on dit au foot, puisque le quatuor emmené par un Guillaume intenable et charismatique va littéralement faire oublier qu'on est venu là pour ce qu'il convient maintenant de nommer la seconde partie de Maison Neuve. S'écartant toujours plus de ses timides mais irrésistibles essais pop en solitaire d'il y a quelques années, Guillaume Faure a su développer ses récentes compositions en se basant sur la tension et l'énergie apportée par son groupe ; manifestement, le travail et les nombreux concerts ont porté leurs fruits. Mentions spéciales pour le tubesque et sauvageon "Victor" et "Love Favela", mais à chaque morceau, il se passe quelque chose de différent, d'humain et d'intense sur scène. Maison Neuve, secret trop bien gardé, saura, je l'espère, user de ce concert réussi devant un public fourni (et, j'en ai l'impression, séduit) comme d'un trampoline pour de nouvelles et palpitantes aventures.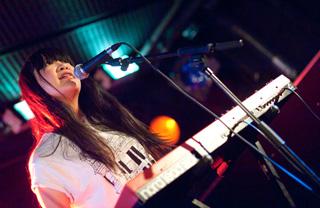 En comparaison, les Pains of Being Pure at Heart parurent bien pales. En quatre chansons, certes excellentes bombinettes entre twee et noisy pop comme on en faisait par centaines à la charnière des années 80 et 90, tout est dit. Le reste du concert, pourtant très court (une quarantaine de minutes), paraît bien long, prévisible et convenu, charmant, certes, mais sans relief, leur "This Love is Fucking Right" sonnant définitivement comme une version un poil vulgaire (dans tous les sens du terme) du "This Love is not Wrong" des Field Mice, auxquels les New-Yorkais doivent beaucoup. Mais on n'écrit pas "Sensitive" tous les matins. Ni "Victor" ou "Love Favela".