PHIL OCHS - excerpts from American Troubadours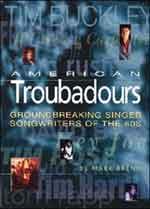 Mark Brend could just be one of the three authors of what will certainly be for me the best record of the year, the everlasting (and sadly very hard to find) FariÒa's album "Three People". That would be More than enough to deserve our admiration. But this guy has more to give. He publishes this month a book called "American Troubadours" (Backbeat Books), Containing biographies and analysis of the craft of nine genius songwriters of the 60s (Tim Buckley, Tim Hardin, Tom Rapp, Fred Neil, David Ackles ...). he kindly agreed to let us publish extracts from the chapter devoted to Phil Ochs, who died 25 years ago. A good opportunity to discover or rediscover one of the most talented craftsman of the sixties.

The Phil Ochs who survives in public consciousness is a guitar-toting revolutionary firing acoustic broadsides at Republicans. It's an accurate enough reflection of his early career, when he was recording "topical songs" for Elektra. But one of the tragedies of this most tragic of stories is that as he moved beyond his folk-protest beginnings to the intriguing, ornate, baroque chamber pop of his later A&M albums, he started to lose his modest audience. That music, his best, is all too often obscured by the enduring picture of the strident protestor who finished up a lowly entry in the list of 1960s casualties, way behind the big figures like Jimi Hendrix, Jim Morrison, Janis Joplin and Brian Jones.

While in Africa in 1973 Ochs travelled to Tanzania, telling people he was on his way to meet Idi Amin. On his first night there he was attacked and robbed by three men as he walked alone on the beach. He was half-strangled and badly beaten. Ochs's vocal chords were damaged during the attack, and as a result he lost the whole of his top register. He returned to the States and went to see Frank Sinatra's throat doctor who told him that if he gave up drinking and did specially prescribed vocal exercises for three hours a day, every day, for two years, then he might get his voice back. It was a cruel blow for a limited singer who relied heavily on his upper register. Ochs ignored the doctor's advice and his voice was never the same again.

As the decade wore on Ochs's malaise was punctuated with increasingly bizarre episodes, and this was when he reinvented himself as John Butler
Train. He decided he needed to sign with Presley's manager, Colonel Tom Parker, to relaunch his career. When Parker didn't respond to his calls, he approached Kentucky Fried Chicken's Colonel Sanders, or at least the company that owned the rights to the franchise, and actually succeeded in setting up a meeting with them to discuss his proposals. The corporate representative soon found an excuse to terminate the meeting with the
drunken, stammering Ochs.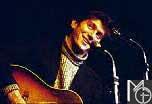 He opened a bar called Che and planned to invite the Mafia to the launch party. The venture closed within days after Ochs had ploughed in his remaining savings. He planned to move back to the East Coast and hired a truck to move all his possessions - which somehow got lost en route. Ochs turned up at a friend's house early one morning in his last item of clothing, the gold suit, caked in dried vomit. His friends and family made unsuccessful efforts to persuade him to seek help, or in some cases abandoned him.

Early in 1976 Ochs went to his sister Sonny's house and asked if he could stay for a few days. A sort of calm seemed to settle. He played cards incessantly with her two sons. He visited a psychiatrist and made an appointment for another consultation. He went to buy a new guitar, but couldn't find one he wanted. He even performed a few songs for friends at a party. But on April 9th 1976, alone in Sonny's house for just ten minutes while her son David went to the shops, Phil Ochs hanged himself from the bathroom door. He was cremated the next day, and his friend Andy Wickham scattered his ashes from Edinburgh Castle, which he had visited as a child.

© Mark Brend
Discography (albums excluding compilations)
All The News That's Fit To Sing (1964)
I Ain't marchin' Anymore (1965)
Phil Ochs in Concert (1966)
Pleasures of the Harbour (1967)
Tape from California (1968)
Rehearsals for Retirement (1968)
Phil Ochs Greatest Hits (1970)
Gunfight At Carnegie Hall (1975)
ISBN 0-87930-641-6

The book can be bought by mail-order at the following address:

Charles Alexander,
Jazzwise,
2B Gleneagle Mews,
London
SW16 6AE

Tel: 020 8769 7725
Fax: 020 8677 7128
Email: sales@jazzwise.demon.co.uk

Produced for Backbeat books by Outline Press Ltd
115J Cleveland Street
London
W1T 6PU
England

www.balafon.dircon.co.uk

"American Troubadours" is currently only available in an English languageversion. Any publisher interested in producing a French langauge version
should contact Nigel Osborne at the above address, or by email