Total Heaven, c'est qui ?
En plus de leurs conseils avisés, Babouche et Martial, disquaires chez Total Heaven, organisent de nombreux showcases, ainsi que des expositions. Les nouveautés du magasin sont présentées deux fois par mois au Wunderbar. Sans compter des DJ sets avec les collectifs locaux, à l'instar de Save The Vinyl.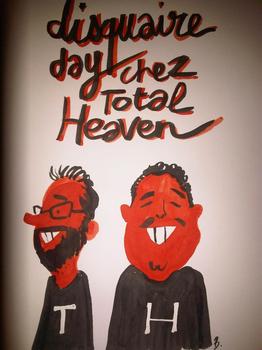 Total Heaven, c'est où ?
6, rue de Candale 33000 Bordeaux
"Pourquoi aller ailleurs quand le paradis est à côté de chez soi ?" Luz, de Charlie Hebdo

Quelques albums à mettre sur votre platine
Cerebral Balzzy – Cerebral Balzzy (Williams Street Records)
Klub des Loosers – La Fin de l'Espèce (Les Disques du Manoir)
Spiritualized – Sweet Heart, Sweet Light (Dedicated Records)
Lee Fields – Faithful Man (Daptone Records)
Ty Segall & White Fence – Hair (Drag City)
Les rendez-vous à ne pas manquer
Shellac, au Rocher de Palmer (Cenon)
NOFX et The Hives, à Garorock (Marmande)
François & The Atlas Moutains, à la Vie Sauvage (Bourg sur Gironde)
Et du côté du "shop"
Leslie Tychsem, vernissage (01/06)
Catholic Spray, en showcase (08/06)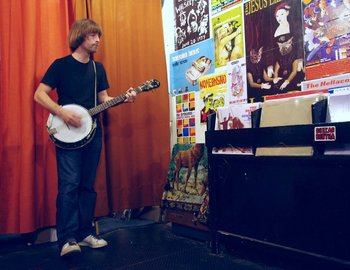 Kim en showcase
Les réussites du Disquaire Day 2012
Dead Boys, Sonic Reduce (Warner Music)
Gorillaz, Doyathing (EMI)
Lee Hazzlewood, The LHI Years (Pias)
Mansfield. TYA, La Jungle Nous Appelle (Vicious Circle)
Morrissey, Suedehead (EMI)
 Pour en savoir plus, rendez-vous sur Facebook.