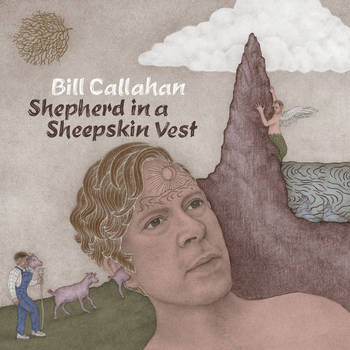 Il y a quelques années de ça, j'allais parfois jouer à la scène ouverte du Pop In. Il y avait des morceaux, discutables, de ma propre composition, et il y avait des reprises. Un soir, j'ai voulu m'attaquer à "Blood Red Bird" de Smog et, heureusement, je n'ai pas poussé l'exercice jusqu'à une représentation publique. Au début je trouvais la chanson simple à jouer mais je me suis très vite rendu compte qu'il manquait un élément essentiel pour interpréter ce morceau, à savoir Bill Callahan lui-même. Si les accords de guitare sont remarquables, lui seul sait comment les faire sortir de leurs mélodies répétitives pour les rendre aussi singuliers. Si la voix navigue entre médium et grave, seul Bill Callahan sait jouer des inflexions, varier les tessitures et nous prendre par la main avec le souffle de sa présence.
Mais depuis six ans, cet homme à la production si régulière (dans les années 90, il sortait un album de Smog par an, ou pas loin) se tenait à l'écart de la musique. Il avait perdu sa mère. Il s'était marié et était devenu père. Nouvelles priorités, pause salutaire, silence enfin rompu avec ces vingt nouvelles chansons. Les sonorités un peu lo-fi qui nous accueillent sur "Shepherd's Welcome" donnent l'impression d'un retour aux sources, mais Bill Callahan prend son temps à la guitare acoustique. Il pose quelques notes avant d'enchaîner sur une suite d'accords pour accélérer doucement la rythmique. Nous retrouvons sa voix grave et presque accueillante, et le sobre travail d'orchestration fait son œuvre pendant une heure.
Et puis, en plein milieu, Bill Callahan nous prend au dépourvu avec "What Comes After Certainty" et son magnifique "True love is not magic / it's certainty / and what comes after certainty". Il va sans dire que c'est l'une des plus belles chansons d'amour que l'on ait entendues depuis longtemps, et cela parce que l'époque nous a appris que l'on en avait désespérement besoin. Plus tôt, il nous avait arraché un sourire de tendresse avec "The Ballad of the Hulk". Une sincérité belle comme jamais qui nous pousse à relire notre vieille collection de comics. Cela pourrait être de la simple nostalgie, mais le morceau est absolument imparable en termes d'écriture. Vingt titres, vingt tranquilles chefs-d'œuvre : on préfère s'arrêter là dans l'énumération détaillée de ce qui constitue indéniablement l'un des albums de l'année.