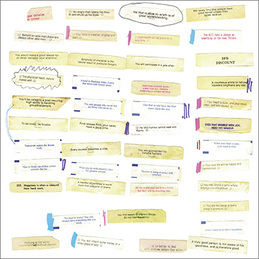 L'ashram dans lequel les Beatles se faisaient sucer leur reste de cerveau disponible (et leur porte-monnaie) est désormais réhabilité et visitable par des touristes en mode beatlemania équitable. On pourra dorénavant voir, contre quelques dollars, la case en béton dans laquelle notre chère Prudence Farrow a failli se faire violer par le Guru Maharishi Mahesh Yogi et s'immortaliser dans des lieux historiques, grâce à une perche à selfie en bambou bio vendue sur place. Jai guru deva om forever. Aujourd'hui, c'est Bonnie Prince Billy qui s'est fait kidnapper par une bande de hippies néo new age, les Bitchin Bajas et il s'est bien fait bourrer le mou par ces cochons-là. Jetez un coup d'oeil à la liste des titres ou à la pochette : Les Bitchin Bajas ont tellement enfumé Bonnie qu'ils lui ont fait réciter sur bandes des textes de fortune cookies frelatés issus d'un déstockage massif des frères Tang chez Lidl. Le tout sur des nappes de claviers minimales, un brin de flûte à bec qui traînait dans le studio voire un sax enroué ("Your whole family are well"), un poil de guitare psyché (folk, électrique) et envoyez la monnaie (via Drag City) ! Pas fous les Bitchin Bajas : le complétisme est une des maladies du fan de BPB, c'est leur meilleure vente assurée.
Trêve de plaisanterie. Malgré tout, ces jams épiques avec le country man sont bien beaux. On se surprend à rêvasser agréablement pendant l'écoute de ces plages relaxantes, ambiant rétro en son mono, avec la (rare) guitare et la voix traînante de Bonnie Billy. Pour un peu, pris par l'enthousiasme, on ressortirait la Buddha Machine du placard pour faire des remix des albums CDR d'André Herman Düne à la même sauce curry vert, le talent en moins. Quand le démon de la transe (chamanique) me prend le corps, j'écris n'importe quoi. Et même si on a envie de ricaner en entendant susurrer "your heat is pure, your mind is clear, your soul devour", on se laisse emporter par les délicieux sons de cloches et les ambiances Popol Vuhesques, avec des claviers répétitifs et gouleyants en sus ("Nature Makes Us For Ourselves").
Je prends ici des risques, que la rédaction n'assumera certainement pas, mais tant pis, à moi la fatwa des bouseux de Louisville (Kentucky) : je ne suis pas grand fan de Bonnie Billy et, surtout, hérésie suprême, je le préfère accompagné, avec Matt Sweeney bien sûr, le "Superloup", mais aussi avec les supertortues, "The Brave and the Bold". Je place donc cette collaboration dans mon top 3 Billyesque. Et si les Bitchin Bajas passent avec leur barda dans le coin, avec ou sans Billy, je prends ma place. Bien joué les gars ! Et, comme vous dîtes : keep on, keep it on.