V/A – Where The Action Is! Los Angeles Nuggets 1965-1968
(Rhino) – acheter ce coffret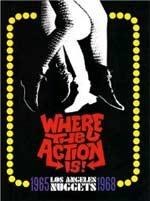 Equivalent angeleno du beau coffret dédié à San Francisco en 2006, "Where the Action Is" compile à peu près tous les artistes ayant compté sur la scène musicale de LA entre, en gros, l'émergence commerciale des groupes d'immigrés de l'East Side et la décomposition des groupes au profit des chanteurs-compositeurs de Laurel Canyon. Pas de surprise, les grosses pointures garage-psychédélique du Strip sont là : les Seeds, Music Machine, les Rising Sons, les Electric Prunes, les Byrds, Sagittarius, The Association, The Guilloteens, Love, pour n'en citer que quelques-uns. Les précurseurs chicanos (The Premiers, Thee Midniters) de même que quelques formations mainstream telles que les Doors, les Beach Boys, les Monkees ou les Turtles sont évidemment aussi de la partie. Le choix des titres, pas forcément les plus connus, est impeccable et Rhino a pour l'occasion déterré plusieurs inédits, notamment une démo de "Words" par le duo Boyce-Hart, "Once Upon a Time", collaboration entre le très jeune Tim Buckley et le parolier Larry Beckett, ou une version du célèbre titre des Mojo Men "Sit Down I Think I Love You" par Steven Stills et Richie Furay. Cette superbe anthologie, dont le prix tourne autour des 40 euros en import, est accompagnée d'un gros livret proposant une histoire de la scène de LA, une chronologie détaillée, une liste des clubs et de passionnantes notes pour chacun des… 101 titres sélectionnés.
Julian Flacelière
Riot On Sunset Strip – Standells
You Movin' – The Byrds
You I'll Be Following – Love
Dr. Stone – Leaves
Go And Say Goodbye – Buffalo Springfield
Zig Zag Wanderer – Captain Beefheart & His Magic Band
Gentle As It May Seem – Iron Butterfly
Candy Cane Madness – Lowell George & The Factory
If You Want This Love – The West Coast Pop Art Experimental Band
Baby My Heart – The Bobby Fuller Four
All Night Long – Palace Guard
It's Gonna Rain – Sonny And Cher
For My Own – The Guilloteens
Take A Giant Step – The Rising Sons
One Too Many Mornings – The Association
Time Waits For No One – Knack
Take It As It Comes – The Doors
Pulsating Dream – The Kaleidoscope
Tripmaker – Seeds
The People In Me – The Music Machine
Saturday's Son – Sons Of Adam
Eventually – Peanut Butter Conspiracy
Swim – Penny Arkade
The Third Eye – The Joint Effort
Girl In Your Eye – Spirit
Jump, Jive & Harmonize – Thee Midniters
Back Up – The Light
To Die Alone – Bush
Get On This Plane – The Premiers
Little Girl, Little Boy – Odyssey
Hideaway – The Electric Prunes
Listen!, Listen! – The Merry-Go-Round
She Done Moved – The Spats
Grim Reaper Of Love – The Turtles
See If I Care – Ken & The Fourth Dimension
He's Not There Anymore – The Chymes
Back Seat '38 Dodge – Opus 1
Eternal Prison – The Humane Society
Revenge – Others
Come Alive – Things To Come
Acid Head – The Velvet Illusions
Guaranteed Love – Limey & The Yanks
Love's The Thing – The Romancers (a.k.a. The Smoke Rings)
Underground Lady – Kim Fowley
Pretty Little Thing – Deepest Blue
You're Wishin' I Was Somebody Else – The Whatt Four
Hippy Elevator Operator – The W.C. Fields Memorial Electric String Band
That's For Sure – The Mustangs
Tomorrow's Girl – Fapardokly (Merrell & The Exiles)
Everything's There – Hysterics
Our Time Is Running Out – The Yellow Payges
Action, Action, Action – Keith Allison
The Rebel Kind – Dino, Desi & Billy
High On Love – The Knickerbockers
Fan Tan – Jan And Dean
Halloween Mary – P.F. Sloan
Somebody Groovy – The Mamas & The Papas
Daydreaming – Thorinshield
Just Can't Wait – The Full Treatment
Yellow Balloon – The Yellow Balloon
The Times To Come – London Phogg
No More Running Around – The Lamp Of Childhood
Little Girl Lost-And-Found – The Garden Club
Mothers And Fathers – Moon
My Girlfriend Is A Witch – October Country
Montage Mirror – Roger Nichols Trio
Flower Eyes – Pasternak Progress
Come Down – Common Cold
Jill – Gary Lewis & The Playboys
Daily Nightly – The Monkees
Night Time Girl – Modern Folk Quintet
Don't Say No – Oracle
Tin Angel [Will You Ever Come Down] – Hearts And Flowers
Rainbow Woman – Lee Hazlewood
Poor Old Organ Grinder – Pleasure featuring Billy Elder
Baby, Please Don't Go – Ballroom
Sit Down I Think I Love You – Stephen Stills & Richie Furay
Splendor In The Grass (2005 Digital Remaster) – Jackie DeShannon with The Byrds
November Night – Peter Fonda
Roses And Rainbows – Danny Hutton
Lemon Chimes – Dillards
Here's Today – The Rose Garden
I Love How You Love Me – Nino Tempo & April Stevens
Words [Demo] – Tommy Boyce and Bobby Hart
[You Used To] Ride So High – The Motorcycle Abeline
Los Angeles – Gene Clark
Once Upon A Time – Tim Buckley
Darlin' You Can Count On Me – The Everpresent Fullness
I'll Search The Sky – The Nitty Gritty Dirt Band
Come To The Sunshine – Van Dyke Parks
Heroes And Villains [Alternate Take] – The Beach Boys
She Sang Hymns Out Of Tune – Jesse Lee Kincaid
Sister Marie – Nilsson
Last Night I Had A Dream [Single Version] – Randy Newman
Life Is A Dream – Noel Harrison
Marshmallow Skies – Rick Nelson
I Think I Love You – Del Shannon
Change Is Now – The Byrds
The Truth Is Not Real [Single Version] – Sagittarius
You Set The Scene – Love
Inner-Mannipulations – Barry McGuire