SOIRÉE KÜTU FOLK RECORDS - Le Nouveau Casino, Paris, Le 8/04/2009 : Pastry Case, Leopold Skin, St Augustine, The Delano Orchestra
L'Auvergne à Paris. Pas des vieux cratères endormis mais des jeunes volcans ardents. Pour ses premiers pas artistiques dans la capitale, le label clermontois Kütu Folks Records avait réservé la scène du Nouveau Casino à toute sa marmaille : Pastry Case, Leopold Skin, St. Augustine et The Delano Orchestra. Soit quatre groupes co-substantiels appartenant à une même communauté artistique autogérée, amoureuse de musique folk, de chemises à carreaux et de grands espaces. Impossible de résister à la curiosité...

En ouverture, Pastry Case délivre son folktronica slowcore plutôt convaincant. Trois garçons et une fille, des voix de chats étranglés, des samples crades, des claviers vaporeux. C'est bricolé mais pas cheap, fragile mais pas bancal et ça monte même en puissance quand toute la troupe s'époumone sur scène dans une joyeuse chorale à la Silver Mt Zion. Belle entame.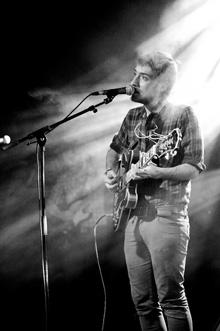 Puis c'est au tour de Leopold Skin de prendre le micro. Trois guitares prennent place sur scène. Petite précision, son disque tourne sur ma platine depuis quelques semaines. Et là, pas grand-chose. Une collection de folk songs bucoliques mais timorées qui ne réitèrent pas le frisson du disque. Bien sûr je retrouve ce chant marmonné et ses accents psychédéliques qui colorent l'album mais, sur scène, il y a un chanteur un peu perdu qui n'a pas encore trouvé le bon niveau d'intensité pour interpréter ses chansons.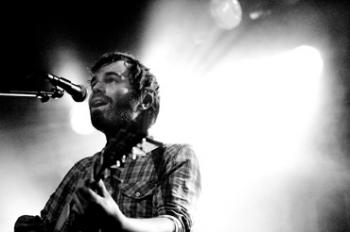 St. Augustine maintenant. Belle gueule, bon look ce François-Régis Croisier qui met enfin un peu d'ambiance. Un bassiste, un batteur et une violoncelliste l'ont rejoint et font décoller les chansons du plancher des vaches. Puissance et justesse du chant, présence assurée du garçon, empathie avec le public, St. Augustine fait le show avec une générosité bienvenue et donne en live du relief à ses mélodies contemplatives. On voit que le Printemps de Bourges est passé par là car le garçon assure tout simplement. Cerise sur le gâteau, il annonce qu'il va être papa. L'assistance s'est-elle pâmée ? J'aurais juré...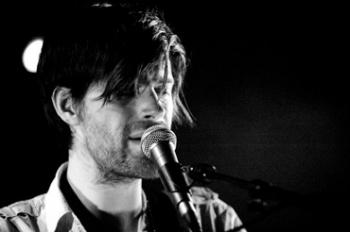 De quatre, on passe à sept musiciens. The Delano Orchestra, fort de déjà deux albums (dont un premier album remarqué par la critique, "A Little Girl, A Little Boy & All The Snails They Have Drawn"), fait figure de tête d'affiche ce soir et de grande famille dans la tribu Kütu. Difficile de juger la prestation du groupe. Les trois chansons auxquelles j'assiste se déroulent en un long crescendo dramatique guidé par le chanteur à la voix un peu fade et à la mèche énervante. Les Delano aiment les grands espaces et les virées planantes. Pas le temps de se laisser embarquer, il faut partir...
Luc Taramini
Photos par Guillaume Sautereau.
Merci à Lara.