THE NONCE – The Only Mixtape
(Rayon du Fond / Musicast) [site] – acheter ce disque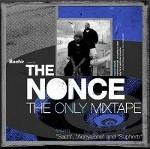 « I used to sell mixtapes, but now I'm an emcee »…
C'est cette petite ritournelle, plus chantée que rapée, que beaucoup ont en tête lorsque l'on évoque le cas The Nonce, qu'ils l'aient découverte sur l'une des versions de la compilation Project Blowed, sur « World Ultimate », l'irréprochable premier album du duo, voire, moins probable, sur le maxi original. Et bien maintenant, la boucle est bouclée, car c'est au tour du plus mésestimé des grands groupes de rap (à moins qu'il ne s'agisse du plus grand de ses groupes mésestimés), d'être l'objet d'une mixtape. L'initiative est à mettre au crédit de Bachir, DJ et journaliste qui, à la radio, en soirée, sur Internet ou via les mixes livrés par le passé avec Slurg, entretient depuis plus de dix ans la flamme du hip-hop.
Le défi n'était pas simple, compte-tenu de la discographie plutôt mince du duo en tant que tel. The Nonce, en effet, a été une aventure de courte durée. Yusef Afloat cassant sa pipe en l'an 2000, avant que le groupe ne fête ses 10 ans, ils n'ont sorti qu'un véritable album, le culte « World Ultimate », suivi d'un EP, « The Sight Of Things », auxquels il faut ajouter deux disques posthumes « Advanced Regression » et « The Right State Of Mind », réapparus en 2005.
Bachir, ne s'est cependant pas arrêté à ces maigres sorties. Aux titres du duo, il a ajouté des collaborations avec Supherb, leur collègue de label chez Wild West, ainsi que « Mr Outsider », l'un des trois titres qu'ils ont produits sur le « All Balls don't Bounce » d'Aceyalone. Il a aussi recouru aux titres sortis en solo par Nouka Basetype, devenu Sach à la mort de son compère, sur ses propres albums, en featuring ou au sein de Global Phlowtations, le collectif californien qui nous a aussi apporté Adlib, Inoe Oner et Orko Elohiem.
A défaut de mettre la main sur les originaux du duo, des collectors aujourd'hui (visez un peu le prix de  »The Sight Of Things » sur Amazon…), les néophytes trouveront sur cette mixtape de Bachir un échantillon très représentatif de la musique de The Nonce, à mi-chemin d'un emceeing étrenné au Good Life Café et d'un jazz rap très smooth dans la lignée de Tribe, avec, pour Sach en solo et Global Phlowtations, quelques moments plus sombres et plus hallucinés. Et ils auront nécessairement l'envie de pousser plus loin. C'est tout le mal qu'on leur souhaite puisque, comme le précisent à fort juste titre les notes de pochettes de cette « Only Mixtape », il n'y a jamais aucun risque d'être déçu avec The Nonce.
Sylvain Bertot
Mixtape Intro
The Nonce – From the Ground Up Eighty Five Mix
The Nonce – Who Falls Apart?
The Nonce – Live and Direct
Supherb – Dominoes, Cards and Chess
Aceylone – Mr Outsider
Supherb – 90008
The Nonce – Mix Tapes
Global Phlowtations – To the Turn of the Earth
Sach – Black Earth
Sach – Number 9
Lynn Ness and Sach – Droppin' Jew-Els
The Nonce – Good to Go
Supherb – Mr Holywood
Sach – Go Just to Stop
The Nonce – The Sight of Things
The Nonce – On the Air
Sach – Joy
The Nonce – Just What I Needed
Sach – Gold Lace
Ammon Contact and Sach – Into 777
Sach – L.I.F.E. Gives
Project Blowed – The People
Presto, Sach And LA Jae – Soloïst Virtuoso
Create – Sonny Sharrock