When Harry Almost Met Ron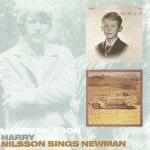 I first discovered Harry Nilssons music in a very predestined way.
I was looking through a "bargain bin" at the local mall., when I came
across a strange looking album called "Knnillssonn" On the back, I noticed a song titled "Lean On Me" which I mistook for the old Bill Withers tune of the same name.
Needless to say, I bought the record and was initially disappointed to find that it wasn't the song I thought it was.. Gradually though, this bizarre music started to grow on me until I felt I had made a new friend.
From there, I naturally went back to search out all his other records and soon realized that his was the voice responsible for singing some of my childhood favorites such as"Without You" "Everybody's Talkin" and "Me And My Arrow" (Which I first heard in the animated cartoon "The Point" when I was 6 or 7.)
Nilsson and his music always seemed to exist in a world of their own. Possessed with a lovely voice that had more in common with the crooners of the 30's than with anything of the "rock"era, it spoke to me in a different way.
There was always humour and sadness, (often at the same time) in songs such as"Good Old Desk" and "One" from "Ariel Ballet" (one of his best records) or on the haunting "Without Her" His two most successful albums "Nilsson Schmilsson" and the follow up "Son Of Schmilsson" though not my favorites, contained enough gems like "The Moonbeam Song" "Remember (Christmas) "Turn On Your Radio" as well as the hits "Without You" (a Badfinger cover) and "Coconut" to keep me happy.
With his new found success came "The Point", one of his finest hours in my humble opinion. It told the story of a little round headed boy in a land where everyone and everything had a point. The songs "Think About Your Troubles" , "Lifeline" "Me And My Arrow" were magical. Each one filled with a whimisical sense of humanity, innocence and wisdom. Both the record and the animated movie have held up extremely well with time I'm here to say…
His love of the "standards" and of "crooning" led to "A Touch Of Schmilsson In The Night" a fine batch of some of the great songs such as "Always", "What'll I Do", "As Time Goes By" as well as more obscure ones like "Lullaby In Ragtime" all backed by a full orchestra led by Gordon Jenkins (And this was long before Linda Ronstadt teamed up with Nelson Riddle)
The next period found Harry in abit of a rut. During the recording of
"PussyCats" (with John Lennon producing) Harry's vocal chords were damaged by strain and his voice would never be quite the same.
The following records "Duit On Monday" "Sandman" "That Is All" have the jokey "boys will be boys" feel of an extended stag party. Even so some great moments like "Salmon Falls and George Harrison's tune "That Is All" shine through) But then magically…
Out of the proverbial ashes he returned with what I feel to be his "masterpiece" Straight from the "bargain bin" and into my life came "Knillssonn". From start to finish, it's arguably his most focused album (Apparently it was Harry's favorite too) Beautiful ballads like "All I Think About Is You" "Lean On Me' " Perfect Day" fit nicely beside quirkier tunes such as "I Never Thought I'd Get This Lonely" "Old Bones" and ditties like "Blanket For A Sail". The record flopped commercially though,which I guess is not too surprising due to its eccentric nature. But to this day, I still hold it up it among my most treasured records. (Although I prefer it on vinyl)
After "Knillssonn", Harry kind of disappeared only to emerge occasionally to work on soundtracks (Such as "Popeye" or "Yellowbeard" ) or after Lennon died to lobby against hand guns. His last record "Flash Harry", produced by Steve Cropper was patchy but strangely reassuring.
A few months before he died, I was in LA, meeting potential producers for what was to be my debut album. During such a meeting with T-Bone Burnett, we got on the subject of Nilsson. He could hear in my music that I was a fan.
He told me that Harry was working on a record and that he would call him on my behalf and try to arrange a meeting that very weekend! Well, later on that night, T-Bone called my hotel room to say that Harry was unable to get together but would love to hook up next time I was in town…
As my luck or fate would have it, there wouldnt be a next time.
After Nilsson died I truly felt the world to be a slightly sadder place. His death almost seemed to go unnoticed…
The voice that always found a way to cheer me up was gone.
I still miss him even as I write this So now, years later it's inspiring to see the reissues and the renewed interest in his work. He was the original sad clown, a genius, a great singer, songwriter and without a doubt the best friend I never had.
Ron Sexsmith
Some links about Harry Nilsson and Ron Sexsmith:
Harry Nilsson : The Harry Nilsson Web Pages
Discography (rereleased in 2000 by BMG) :
Harry/Sings Newman
The Point/Skidoo
Nilsson Schmilsson
Son of Schmilsson
Pandemonium Shadow Show/Aerial Ballet/Aerial Pandemonium Ballet
Ron Sexsmith :
The official fan site
The official site
Discography : Ron Sexsmith (1995)
Other songs (1997)
Whereabouts (1999)